By
Matt Fisher
on August 12, 2012
Ok, it's official. Andrew Wiggins is the most prodigious player in high school basketball.
No, I can't confirm this, I don't run a recruiting website, and I can't say I've seen him play in person either. But this Canadian baller and his 44" inch vertical have proved to be simply too much for anyone at the high school level.
Some might say everybody's favorite mormon, Jabari Parker, is better than Wiggins right now, and that's also a valid argument. Not only was Parker the 2012 National Gatorade Player of the Year as a junior (a feat accomplished by only Lebron James, Brandon Knight, and Greg Oden), but he's started for Chicago's Simeon since his freshman year, something former Simeon star turned NBA MVP turned ACL-tear-victim Derrick Rose didn't even do.
He's got three state championships and lost just one game last season (to Findlay Prep). His advanced ball-handling ability for a 6'9" forward, Paul Pierce-ish Carmelo Anthony-type body and feathery shooting touch mixed with his sometimes Magic-esque "How the hell did he see that" court vision is enough to make a god-like
BallisLife
YouTube highlight mixtape
. And along with holding the Simeon single-game scoring record, Parker's a great citizen, as evidenced by his
assumption of water-boy duties for Simeon's JV squad
. Plus, his favorite player is Oscar Robertson (how many high school ballplayers even know who that is?), showing he's a student of the game.
He'll be a fan favorite at every level, and might end up being the NBA's poster boy for responsible yet dominant young players. He's also got a longer Wikipedia page than Wiggins.
But there's something special about this Toronto-born superathlete. He's a couple inches shorter. He isn't quite as strong as Parker either. They have different games though.
Wiggins has the body of a young Kobe -- a lanky two-guard with long arms and springs in his legs. Entering the NBA as an 18-year old, Kobe was 6'6", 193 lbs. Wiggins as a high-school junior? 6'7", 190 lbs.
And it's Wiggins -- not Parker -- with the jaw-dropping YouTube videos.
Last month during a scrimmage at the LeBron James Skills Academ
y, Wiggins took from outside the key on the right baseline and got so high he looked like he could've done a front flip over the rim. The kid he was trying to dunk on quickly realized "Crap, this will be all over the internet if I don't foul him right here" and he smacked Andrew on the right arm to send him to the line.
Well the play still found its way there -- as the USA basketball team was in attendance, sitting against the wall behind the basket.
As soon as Andrew got Blake Griffin-high, LeBron -- expecting a Kendrick Perkins/Mozgov/Pau Gasol moment -- jumped out of his seat.
He then walked around in front of his chair for a couple seconds, scratched his head and laughed; doing his best to mask his egotistic "I could do that and jump a foot higher" thought with a "Damn that was nice, I'm just an ordinary human on planet earth watching an impressive high school basketball showcase" reaction.
But he's not ordinary. And neither is Wiggins.
Andrew -- like Kobe, LeBron, and others -- is cut from the mold of the purest NBA superstar. All these guys have a legacy that dates back to their early high school days, and each had unique upbringings to go along with their playing styles that would make them worthy of feature in a "Dos Equis" commercial.
Kobe? He paved the way. Living in Italy at a young age, he watched his father -- Joe "Jelly-Bean" Bryant -- entertain Italian crowds with his stylish play. Dominated at Lower Merion High in Pennsylvania,
breaking Wilt Chamberlain's Pennsylvania high-school scoring record of 2,883 points.
The New Orleans Hornets, in one of the most boneheaded trades in NBA history,
drafted him 13th in the '96 draft
(Please explain
K-Love, you have an imposter.
to me why the Cavs took Vitaly Potapenko, whose greatest claim to fame today is
being a Kevin Love look-alike for a year in Seattle
, before him?!) and sent him to the Lakers (Kobe's favorite team) for Vlade Divac. (You realize stupid things like this
ALWAYS
happen to NBA's biggest stars -- just like how Portland passed on both Michael Jordan and Kevin Durant for draft busts Sam Perkins and Greg Oden, respectively. Blazers: cursed) Five Larry O'Brien trophies later, Kobe has proved to be the most accomplished prep-to-pro in league history. His game most closely resembles Mike's, but his court game is about as rare for a modern shooting guard as spending a month without weed is for Michael Beasley. He gets most of his points off post-ups, where he'll probe his defender with a seemingly loose handle, before he turns around a shoots a jumper -- almost automatic for him in his prime. He's also likely the second-best player in league history at shooting with a hand in his face, and he has the ability to play point guard at times, making him a truly versatile hybrid guard-forward type.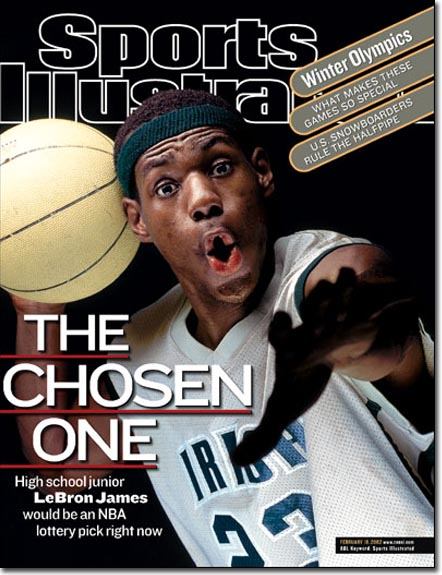 Lebron? Probably the most hyped high school athlete of all time. His timeline started back in the 8th grade, when he and his "ordinary basketball-playing" friends made it to the finals of the AAU national Championship. Then he, and the rest of "average teammates" attended the predominantly-white St. Vincent-St. Mary High School in Akron, where he led them to three state championships and a collective 101-6 record in his four seasons. His games were the first-ever high school basketball games regularly televised by ESPN, and so many people wanted to see him play that his team's home games had to played in the University of Akron's James A. Rhodes Arena. He graced the cover of Sports Illustrated as a junior, tabbed as "The Chosen One".
Magic Johnson even said
if he was a general manager, he would have taken Lebron No.1 as a junior in the '02 draft over Yao. After waiting that pointless year, LeBron jumped straight into the league as the top pick in a loaded 2003 draft that included D-Wade, Melo, and Chris Bosh. He was even picked ahead of Georgetown star
Michael Sweetney
(who, if anything, raised the average body fat of the players picked in the top 10. That counts for something, right?). Even his high school coach --
Keith Dambrot
-- gained so much exposure from the LeBron saga that he got a head coaching offer from the University of Akron, which he took up after LeBron's junior year. To add to Lebron's mystique, he played football up through his junior year until he quit due to a wrist injury.
He was even offered a scholarship
by then-Notre Dame wide-receivers coach Urban Meyer, who went on to win 2 National Championships as head coach at Florida. LeBron has a game that really can't be compared to anyone else in league history. His 6'8" 250-pound frame allows him to play down low in the post, even though he really has the quickness and speed of a 6'0" guard. Some might say Magic Johnson just because he's essentially a big point guard, but LeBron's a much better athlete than Magic was, despite not having his incredible feel for passing.
As an 18-year old, Andrew Wiggins already has a prodigy's resume. First off, he's
Canadian
. We all make fun of the eh-sayers, but watching
this mixtape
made me want to walk around my house blasting a rock-dubstep version of "OH CANADA" through my iPod stereo.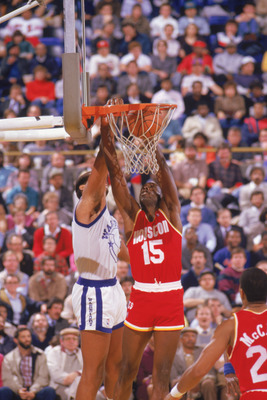 Mitchell Wiggins
Marita Payne
His dad,
Mitchell
, played at Florida State for two years, averaging 23 points and 9 boards before getting picked 23rd by the Pacers in the '83 draft. He was traded to Chicago, where he started 40 games with fellow rookie Michael Jordan. He left for Houston a year later where he played for the Rockets and battled for a starting spot in the lineup with Lewis Lloyd. After Houston lost in the '86 finals, he and his buddy Lloyd both tested positive for coke, and Mitchell was kicked out of the league for two and a half years. Mitchell married Olympic track star Marita Payne at Florida State and they had Andrew in 1995 when Mitchell was playing for
Sporting BC
, a Greek pro team (Again - the foreign connections...). 13 years later, hoopmixtape.com released a
highlight video
of him dominating kids his age in an excessively baggy black t-shirt. The video was the first most of the world got to see of Andrew, and has garnered more than 4,000,000 views to date.
Since then, he's built the profile.
It's the hair. Intimidtation.
He was the youngest player at the FIBA 2010 U-17 World Championships, where he helped Canada to a 3rd-place finish.
At the 2012 Nike Hoop Summit in Portland, he led the World team to a 84-75 win over the U.S. team, which was led by 2013 potential one-and-doners Shabazz Muhammad (Hoop Summit record 35 points) and Nerlens Noel. Despite Noel's old-school hi-top fade appearing as the tallest ever at the Summit, Wiggins was the youngest player in the game's history, and led the World team in points in minutes while showing off KD-smooth jumpshot and Lebron-like superhuman hops.
Andrew stuffed the box score as a sophomore at West Virginia's Huntington Prep in 2011-2012, averaging over 23 points and 7 rebounds a game. He was named West Virginia's Gatorade Player of the Year and the
MaxPreps National Sophomore of the Year
. He also pushed Huntington Prep back in the national picture for the first time since '07, when O.J. Mayo (bottom right) led the state in scoring.
Wiggins obviously has the whole world ahead of him, but he could fall flat on his face. Mayo went from assured NBA superstar to getting punched in the face --
literally.
But something tells me that won't happen (the failure part). Wiggins is humbled and grounded. Like Kobe was, he'll be sheltered and will likely dominate his two years in college. He's so skilled, he probably could have been a top-10 pick in the 2012 draft. Even though there's no sure thing in the scouting process (not even Kobe was), Wiggins possesses all the right mental and physical attributes and seems so far ahead of the curve, it's hard to see him failing.
It's not like he has a choice anyway.
He's got the future of Canada basketball on his back.